A friend, Matina K, has suggested that some might benefit from a post about how to handle the situation when you have entered as single and want to get married at various points along the DV process.
Firstly, I should explain that the marital status question in the eDV entry is one of the critical questions on the form – a mistake on your marital status can (and typically does) cause disqualification – even if the mistake was innocuous/innocent. Some people, for instance, choose "legally separated" when they are in fact, married, but separated. Unless a separation is legally recorded (typically by a court) then you cannot claim to be separated. Similarly, if you enter married because you plan/expect to be married before the results are announced, that can also cause disqualification. It is essential that you take this question seriously and literally.
OK so what do you do if you are planning to get married before the results are announced OR you are selected and then realize that you want to take your boyfriend/girlfriend/partner. The process depends on the exact timing, between the original entry/registration (October), result announcement (May 1), your interview date (after October, according to when you are current) and the end of the DV year (September 30).
By the way, these comments relate to opposite sex, or same sex relationships. Since the repeal of DOMA the federal government has recognized same sex couples have the same rights for immigration benefit as opposite sex couples. US immigration law therefore respects marriage based on the laws and customs that govern in the place where the marriage was performed. If a marriage is considered legal in the place where it was performed then US immigration law treats the marriage as lawful.  I will refer to your boyfriend/girlfriend/partner/fiancé all as partner from now on in this article.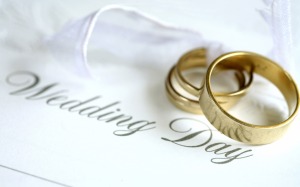 Entry of an unmarried couple in DV lottery
First of all, if you are unmarried you cannot list your partner as a spouse. You can of course both enter the lottery and if either one wins then they have the option of marrying to confer the benefit of a visa (and then Green Card) on the other. Just be aware that each principal selectee (winner) has to meet the requirements in their own right (regarding). Whilst married couples can benefit from cross charging to a spouse's country (if their own country is ineligible) that option is NOT available to single entrants that later marry. If you are unmarried but have children then both entries should include the children as derivatives.
Scenario 1: Marriage after registration, but before the results are announced.
This one is "easy". Life happens, you don't put your life on hold simply because you entered the DV lottery. So – you got married, then you found out you were selected so you simply fill in the DS260 as a married couple. There will be some "normal" scrutiny of the marriage – even people who have been married years have been lightly questioned about the marriage in DV interviews. Marriage prior to selection may get similar interest – and if you want to be extra prepared then take some proof of the marriage as I will describe below.
Scenario 2: Marriage after registration, and after the results are announced, but prior to interview.
OK – there is nothing wrong with this if the relationship is real. In fact it is absolutely the sensible thing to do in some cases as I will describe shortly. However, winning the DV lottery is a huge opportunity and there are plenty of people that have tried to manipulate the system to obtain two Green Cards based on a "sham" marriage. It is therefore up to the couple to demonstrate the genuine nature of the marriage and, especially in countries where fraud is more common, the couple should be prepared for extensive and deep scrutiny of the marriage. People have been prosecuted for immigration fraud based on sham marriages – so please don't even consider that!
If you have plans to marry shortly after the announcement of the results, you may decide to hold back submission of your DS260 until you have married, so that you can include your spouse on the first submission of the forms. However, if you have already submitted your DS260 and marry while you are waiting for interview, you can request KCC to unlock your form (email is best) and then modify your DS260 to include your new spouse (including modifying your own entry to reflect your new marital status). In the email requesting the form unlocking, I would suggest including a scan of the marriage certificate which will be added to your KCC file (later sent to the embassy or Field office if doing adjustment of status).
If the marriage happens after the case has been passed to the embassy for a scheduled interview, you should still inform KCC as a precaution BUT your actual approach is to handle the change direct with the embassy. Some embassies are relaxed about who attends the interviews, others are very UNrelaxed – so in some cases you will have to contact the embassy or ask KCC to contact them on your behalf to get your spouse added to the interview schedule.
Scenario 3: Marriage after interview, before entry to the USA, and before the end of the year.
OK – you like to live on the edge don't ya! This is still technically possible, but unwise. The process involves approaching the embassy that handled your case. However, this is a highly risky strategy as the embassy may not understand the rules, you might time out, visas may be exhausted and so on. The MUCH more preferable option is to bring forward the date of your marriage before the interview.
Scenario 4: Marriage after interview, after entry into the USA but before the end of the DV year (September 30th).
OK – this is rare, so rare that I am not even sure this would be technically possible/legal. If you have created this mess you may be able to process a derivative case but this would be highly risky since they would rightly wonder why you hadn't handled this earlier (i.e. causing them severe doubt that the relationship is real).
Scenario 5: Marriage after the end of the year
This one no longer falls under DV lottery rules – a normal immigration process would need to be followed which is slower and more expensive.
Proof of relationship.
How can you prove your relationship is genuine and not just a sham to take advantage of a DV lottery win. Basically this is a matter of demonstrating your life together and the big events with documentary evidence. This can include the following suggestions.:
Photos/Emails/Joint bills from the period of time before the marriage.
Photos or other evidence from the wedding ceremony itself.
Joint financial documents such as shared bank accounts.
Knowledge of each other, your extended families and so on.
Get your thinking cap on – the burden is on you to prove the marriage is real. If there is doubt in the mind of the CO he/she is entitled to deny your visa with no appeal process (in consular processing cases).
Thank you to Matina for the suggestion on this topic – as usual, feel free to ask questions/comment on this article, check out my other posts and subscribe to my blog to be notified as I publish further articles.
DV lottery