When you are approved for a Green Card through the DV lottery there are some important timelines that you MUST understand and adhere to – so this post will hopefully clear up some of those points about Visa validity.
Hopefully, you will be approved in your interview (most people do!), and typically the CO will ask you to leave your passports with them so they can issue a visa. Typically that visa is printed within a few days and you will have been told how you expect to receive your passport (courier, pick up from the embassy). The visa that is issued will look  similar to the example here:-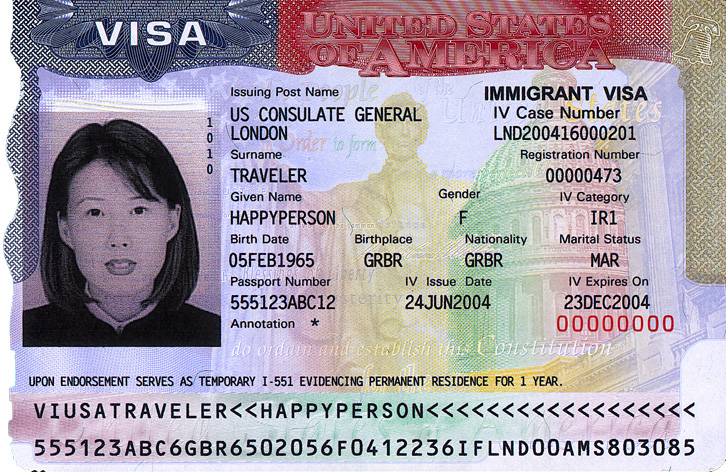 The visa will be valid for the first entry to the USA for up to 6 months after visa issuance. (Note: this time can be shorter if your medical report had a shorter validity, so please check the date "IV Expires on"). It is essential that the visa holder enters the USA to activate their status before this visa has expired – if you miss that date, your visa will not be replaced and you would have lost your right to a Green Card. For that reason I suggest making travel plans for at least a week or two before the expiry date of the visa, just in case you experience delays with travel plans.
When you receive your visa it will arrive stamped in your passport and with a sealed envelope of documents to be carried with you on entry to the USA. DO NOT OPEN THIS ENVELOPE! If the envelope gets damaged in some way, contact your embassy before travel to get the envelope resealed. The envelope must be presented along with your visa to an immigration official at your Port of Entry (POE). The POE is typically the first place you land on US soil, although in some cases this can also be a US immigration checkpoint on foreign soil (Abu Dhabi for instance).
At the POE you will be briefly processed by the immigration officer – it is not a difficult process and at the end they will endorse your visa. Upon endorsement the visa will serve as evidence of your I-551 and indicate your status as a LPR (Lawful Permanent Resident) and is then valid to be used for up to 12 months (until you receive your Green Card). This means that you could, if you wanted get on the next plane back to your home country and then re-enter using the I-551 stamped in your passport for re-entry – there is no need to wait for the physical Green Card to be able to leave.
Your Green Card itself will be sent to the US address you listed on your DS260. The immigration officer at the POE will allow you to change that address at the time of entry. That address should be a real US address – not a PO Box etc. The post office is not supposed to deliver the Green Card to an invalid address. The Green Card will only be sent once you have paid the fee of $220 per person which can be done before you enter for the first time or after you have entered. Don't forget to do this!!!
The Green Card is a thick plastic card that looks like this:-
Rules about re-entry
Some people treat the first trip to the USA as an activation trip and to "look around". They then leave and return to live permanently which is fine as long as you make this return within 12 months. That is perfectly fine and understandable – you are not obligated to take up residence in this first trip – although you will have become an LPR and therefore have other obligations (such as tax reporting – even on income earned outside of the USA!).
Once you begin "residing" in the USA you are expected to maintain residence there. If you leave the USA for long periods of time (up to 12 months) you may be asked to show that you maintained you home there, otherwise you may have been considered to have "abandoned" your Green Card. In that scenario you would have to convince an immigration judge that you did not intend to abandon your Green Card – so I advise you to follow the rules.
If you need to leave the USA for a trip longer than 12 months, you must apply for a "re-entry permit" with form I-131. The re-entry permit must be applied for before you leave the USA, although you can arrange to receive  it at a US embassy abroad. IF the re-entry permit is granted you will get permission to leave for up to 2 years. However, the approval is not automatic – you need a good reason to be approved.
This link provides a bit more information about obtaining a re-entry permit.